Hi! Today, we feature a guest post by Bekah Carrington, who writes at "I Prefer My Puns Intended", a wonderful blog about parenting and faith. We like her blog A LOT. A post we wrote is featured on her blog today. Here is Bekah! This is good…….
Somewhere in between walking out of my parent's home and my senior year of college, I developed a debilitating dependence on coke.
This dependency started small; maybe just this once quickly turned into buying in bulk. By the fall of 2007, I was hooked.  There was no going back.
I was hopelessly devoted to Coca-Cola Classic.
As a red-blooded American, it was so easy to become addicted to this  liquid candy.  Coca-Cola Freestyle machines baited me to try all different types of combinations (cherry, vanilla, raspberry coca-cola tastes like love–or at least I bet it does).  A "small" drink at a drive through looks a lot like what "large" was when I was a kid.  If you order a large drink, you're sure to be sipping upwards of 32 ounces of sugar-laced carbonated water. I learned to pay loads of attention to the food that I ate, but neglected to check the nutritional value of what I was sipping.
That was until I began to run; and instead of counting calories, I counted miles.  I could afford the 2.4 miles I'd have to run for each of my Coca-Colas.
Thus, I kicked the habit: cold turkey.  I began to hitch my wagon to a new addiction: dihydrogen monoxide. That's right: water.
And honestly, I freaking love water.  Whether it's fruit infused water; La Croix; filtered (never spring water); or straight from the tap: I shotgun water like a fraternity boy.  There is something (gasp) refreshing about water.   In our great nation, it is safe to drink and free. 
If you're thinking of becoming a convert and kicking your coke habit for good, here are three things all water drinkers learn the hard way.
Water cups are cartoonishly-small. In a land where $1.99 buys enough liquid sugar to last a lifetime, it may seem odd that when one asks for water–this is what you'll get.
It seems bigger is better in our country; except of course when the beverage is free…Or decidedly better for you.  On average, each "water cup" holds 5 ounces of water, which is less than my son's sippy cup holds. It boggles the mind; it leaves you thirsty for more…literally.
Chipotle offers the largest water cup; This is something you'll want to know for the future. Chipotle has water lover market wrapped. Pun intended.
If this ever happens to you, you can go home. You've won for the day.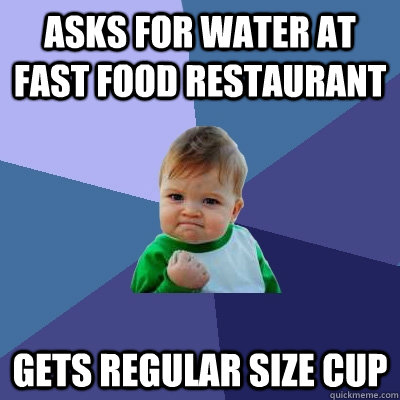 Switching to water only was an easy way to cut out unnecessary sugar, caffeine, and calories from my diet.  Ironically enough, it has not been an easy way to quench my thirst at restaurants.  Will the mouthwash cup turned water cup ever be obsolete? Probably not. But it won't ever stop me from campaigning to get a real cup for water.
Bekah spends most of her time crafting really bad dad jokes at "I Prefer My Puns Intended," because life can be punny. She was three years into her career as a secondary English teacher and gave birth to a beautiful baby boy who completely rearranged her plans. God has a funny way of throwing us curveballs.
For now, she is a full-time mom. In the future, she will return to the classroom. All the while, she will use her blog as a means to teach, inspire, and encourage all who so willingly and unnecessarily sell themselves short. Her favorite topics include faith, family, education, and pop-culture editorials.
The titles of her blogs may be cheesy, but the content earns cheddar. ..and gets feta……sorry, better.
You can connect with Bekah on Facebook (www.facebook.com/iprefermypunsintended), Twitter(@bekcarrington), and Instagram(@bekcarrington)!